Smiddyhill: Electrical Substation
PROJECT OVERVIEW
Electricity is a vital component of everyday life. In order to keep the lights on, new generators are required to produce power, but in order to deliver it to homes and businesses other infrastructure is required.
It is this combination of generators and the infrastructure that transports the power is what makes our National Grid. In order for one of our clients to supply power to the grid from their generators we were tasked with gaining planning consent for a 0.5MW substation on an undeveloped patch of land, south of Neilston.
The site for the substation was an unmaintained area next to an A-class road with a moderate level of vegetation. This posed the first challenge as safe access from this 60mph road would be vital. The second challenge was to ensure that the development matched the strict criteria required by the Distribution Network Operator, Scottish Power, to ensure the substation met their legal requirements.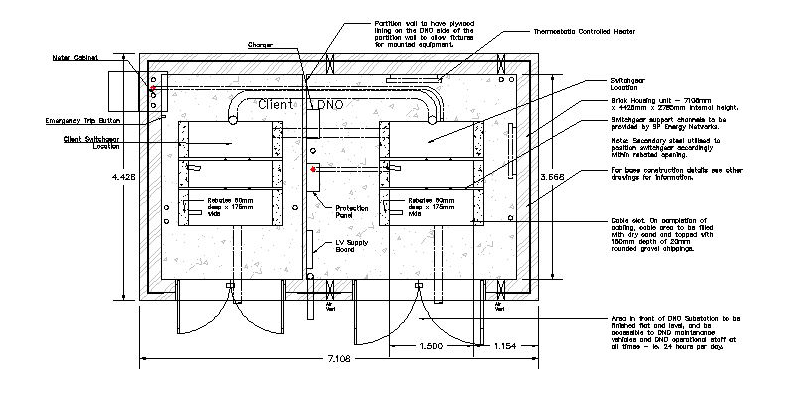 CHALLENGES AND SOLUTIONS

Our first task was to survey the site to ensure the substation could be built in a sustainable manner. Once this was established, the next challenge was access. The speed of the road, combined with the onsite vegetation, meant that surveys were required to ensure that vehicles could move on and off the site safely.

In full consultation with the local Roads Authority, we undertook surveys to establish the average speed of traffic using the road at our proposed access point. We used this data to analyse the visibility splays and design a bell-mouth access.

The next stage was to complete level surveys to establish the ground conditions to design the substation plinth and ducts to Scottish Power's standards. Full consultation was undertaken onsite with representatives to ensure that the cables to and from the substation were safe, as well as confirming that our design would allow safe construction and maintenance access.

OUTCOME

Planning permission was granted by the Local Authority, inclusive of the vegetation management plan we proposed. The substation will allow an additional 1,170,000kWh of electricity to be added to the National Grid every year.