K.T. Montgomery: Noise Assessment
PROJECT OVERVIEW
KT Montgomery are a plant hire and civil and domestic groundwork company based in Kilmarnock, Scotland. As part of their expanding operations, the company was looking to re-open a former quarry site on the edge of Galston, East Ayrshire.
The proposal was to remove sand and gravel over an area of 1.97ha, leading to the extraction of 65,000 tonnes of material over a 3 year period. As the nearest residences were 230m from the site, the Environmental Health requested a noise impact assessment.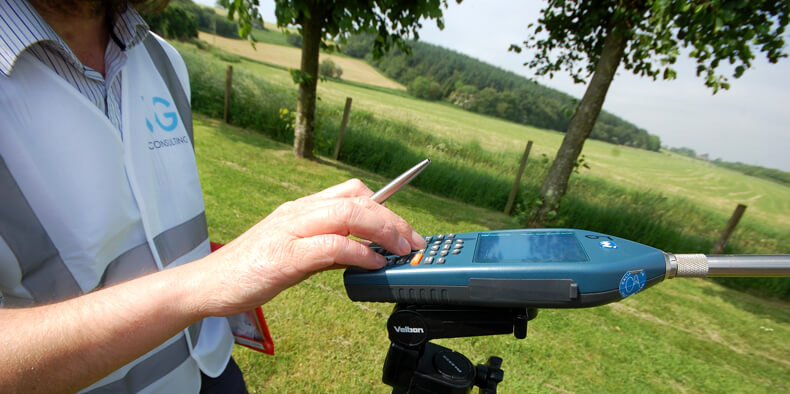 CHALLENGES AND SOLUTIONS

In liaison with Environmental Health, we performed a noise assessment at the nearest properties to the site. This involved using our own specialist equipment to monitor ambient noise levels to establish the background conditions and measure the noise created by the quarrying activity.

Noise level measurements were taken on a Saturday morning, at the nearest residential dwellings, during what would be considered to have the quietest background noise during the operating hours of the development and therefore the greatest potential noise impact on the local residents and amenity.

Once these levels were recorded, the results were evaluated and the results reported in accordance with guidelines provided in:

• PAN 50 Annex A – The control of noise at surface mineral workings

• BS 5228-1:2009+A1:2014 – Code of practice for noise and vibration control on construction and open sites – Part 1: Noise.

The technical report included survey findings and advice on feasible mitigation measures if necessary, to comply with indoor and amenity area noise criteria levels.

OUTCOME

Analysis found that due to the nature of operations, noise from the site may occasionally be heard at the neighbouring properties; however, due to the separation distance from the site and partial screening by the surrounding landscape, noise levels will not give rise to complaints.

Environmental Health responded to the assessment with a formal declaration:

"The service has also reviewed the Noise Assessment from VG Consulting which concludes that at the 2 closest noise sensitive premises (residential development at Barrwood Gate located to the south of the site and Alton House located to the north-east of the site) there will be no adverse impact as a result of this proposed development."

The planning application for the site was consented at Planning Committee following a recommendation of Planning Approval by the Case Officer, subject to a condition providing limits to the noise a working hours.